Exploring the realm of a 360 photo booth rental price list can be quite an adventure, with numerous factors contributing to the final cost. Whether you're planning a corporate event or a private party, understanding these variables is crucial for budgeting purposes.
In this comprehensive guide, we'll delve into aspects such as professional services offered by photo booth rental companies and how their expertise affects the average price. We will also discuss customizable options that could influence the total price.
We won't stop there; our exploration extends to high-quality equipment used in enclosed booths and other types like slo-mo video effects photo booths. Lastly, we'll touch on reliable support which any reputable photo booth rental company retains as part of their service package. 
Affordable Rates
We comprehend the potential costs of organizing an event, but have no fear; our economical 360 photo booth rental price list is here to save you. Whether it's a corporate event, private party, or social gathering in Houston, Texas, and surrounding areas, we have package-type options to fit every budget.
Basic Package: Perfect for smaller events like birthdays or graduations. Includes delivery, setup, and 4 hours of use.
Premium Package: Ideal for larger events such as weddings or bar/bat mitzvahs. Comes with custom backdrops, props, and extended usage time.
Luxury Package: Our top-tier package for grand-scale corporate events. Offers unlimited usage time and professional on-site assistance.
No matter which package type you choose, quality service is guaranteed with 360 Photo Booth Bookings.
Budget-Friendly Options For Every Event Size
We believe that everyone deserves high-quality entertainment options, regardless of their budget. To ensure that everyone has access to quality entertainment, we provide custom pricing tailored to fit your budget.
You don't have to spend a fortune to get an advanced 360 photo booth.
Fair Pricing Without Hidden Costs
We pride ourselves on transparent pricing. The quoted price includes everything – no hidden charges. From booking to delivery and setup, it's all included in one affordable rate. We're one of the most trusted providers for renting 360 photo booths in the Houston area.
Type of Photo Booth Prices Depend
When it comes to planning a memorable event, whether it's a corporate gathering, wedding celebration, or graduation party, adding an interactive element like a photo booth can be the perfect touch. However, when you start exploring photo booth rental companies, you'll quickly realize that prices vary significantly. The type of photo booth you choose plays a significant role in determining the cost and rates for additional hours.
Fully Enclosed Photo Booths Cost
Fully enclosed booths, sometimes called traditional or classic booths, are one option for your event. These offer privacy and often come with props and costumes for guests to enjoy. On average, these types of photo booths cost between $500-$700 for 4 hours, including set up and take down time.
Slow-Motion Photo Booth Cost Renting
If you're looking to add something unique and exciting to your event, consider renting a slo-mo video effect photo booth. This innovative concept allows guests to create dynamic slo-mo video effects they can share on social media platforms instantly. The cost of renting a slow-motion photo booth is typically around $900 for 4 hours.
The captivating slow-motion and reverse effects will give your guests a unique experience.
Mirmir Photo Booth Costs
A Mirmir photo booth is another popular choice known for its high-quality photos favored by celebrities at red-carpet events! The cost of a Mirmir photo booth usually starts from $2k, depending on location and duration, but guarantees professional studio lighting and prints out physical copies onsite!
Beyond just the base cost of renting the equipment itself, there may also be additional fees such as a travel fee if your venue is outside their standard service area or digital copies, which could increase the total price.
The best way forward would be reaching out directly to the photo booth rental company and requesting detailed quotes and asking questions about any potential add-ons so that there won't be any surprises later! You might even find some mail-order options available online where everything gets shipped straight to your door ready to use without needing a booth attendant present during the event!
In conclusion, no matter what type of photo booth setup suits your needs, remember that the ultimate goal should always be ensuring guests have fun creating memories together while capturing moments that will last a lifetime!
Photo Booth Rental Prices Depend on Several Factors
The cost of a photo booth rental can vary greatly, depending on several factors. These include the type of photo booth you choose, the length of time you need it for, and any additional services or add-ons that you select.
Type Photo Booth Prices Depend
The photo booth rental prices depend largely on whether they are fully enclosed or open-air booths. Fully enclosed photo booths cost more due to their larger size and increased privacy features. On the other hand, slow-motion photo booths also come with a higher price tag because they offer unique video capabilities that many people find appealing.
Rental Duration
The duration for which a photo booth rental company retains its photo booth is another significant factor in determining costs. The longer your event lasts, the more expensive your total bill will be. For instance, while an average wedding photographer costs $1 per minute for his services, renting a slow-motion photo booth could set you back by as much as $900 for three hours!
Add-Ons & Extras
In addition to base costs, there may be extra charges if you want certain add-ons with your rental package like digital copies of photos or videos taken during your event. Other potential add-ons might include props or custom wedding photo booth backdrops, corporate events, and graduation parties that are designed specifically for your occasion.
When considering different photo booth rental companies, it's essential to ask about these potential extras upfront so there aren't any surprises when it comes time to pay up! You should always request detailed quotes from multiple vendors before making a final decision.
Note:
A travel fee might also apply if the venue is located far away from where the service provider operates – something worth checking out beforehand!
The entire video area of a 360 Photo booth must be 12×12 which will accommodate 360 Photo booth platform equipment, a prop table, and crowd control stanchions.
The larger platforms have a size of approximately 45-46 inches and have a capacity of accommodating 4-6 guests.
Affordable Yet High-Quality Service
Affordability doesn't mean compromising on quality. We provide excellent customer support throughout the entire process, ensuring a smooth execution without any hiccups. So you can focus on enjoying your special day while we take care of the logistics behind setting up an entertaining corner at your venue.
In addition, despite our competitive rates, we never cut corners when it comes to providing high-quality equipment and professional services. Each guest will leave with memorable photos and videos they'll cherish forever.
Key Takeaway: Our 360 photo booth rental price list for Houston, Texas offers affordable prices and budget-friendly options for events of all sizes. We provide transparent pricing without hidden costs and ensure high-quality equipment and professional services to make your event memorable.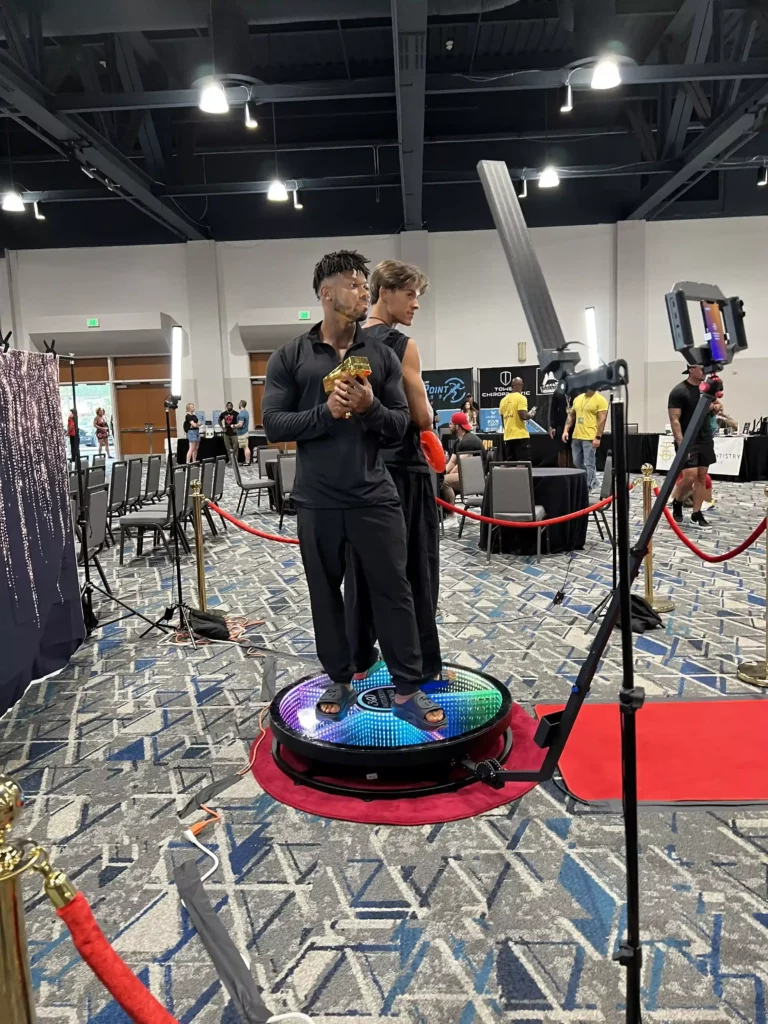 Professional Services
We deliver top-notch professional services for all your 360 photo booth rental needs in Houston, Texas, and the surrounding area. Our team of seasoned professionals ensures your event stands out from the rest.
Experts at Your Service
Our experienced team members are pros in their field, seamlessly integrating our 360 photo booths into any event setting. From corporate functions to private parties, we've got it covered.
Dedicated Event Planning Support
Beyond equipment rentals, we offer comprehensive support throughout the planning process. We help you choose the right package prices and discuss customizable options to make your event unique.
Innovative Solutions For Every Occasion
No two events are alike – and neither should their photo booths be. We offer creative, custom-made solutions to meet the individual requirements of any celebration or corporate event – from weddings to graduations.
Safety Is Our Priority
Your safety is paramount to us. Our staff strictly adhere to health guidelines during equipment setup and breakdowns at venues. We diligently follow CDC Guidelines for your peace of mind.
Liability Insurance for Your Peace of Mind
It's an especially wise decision to make sure the rental company you will be hiring for your event offers liability insurance to protect you and your guests from 360 booth dangers.
Punctuality Guaranteed
We value time as much as quality service delivery. Rest assured, everything will be set up well ahead of your guests' arrival at the venue.
In this ever-evolving digital age, capturing moments means creating memorable experiences. Trust our professional services to take care of the technicalities and ensure everyone leaves with cherished memories and smiles.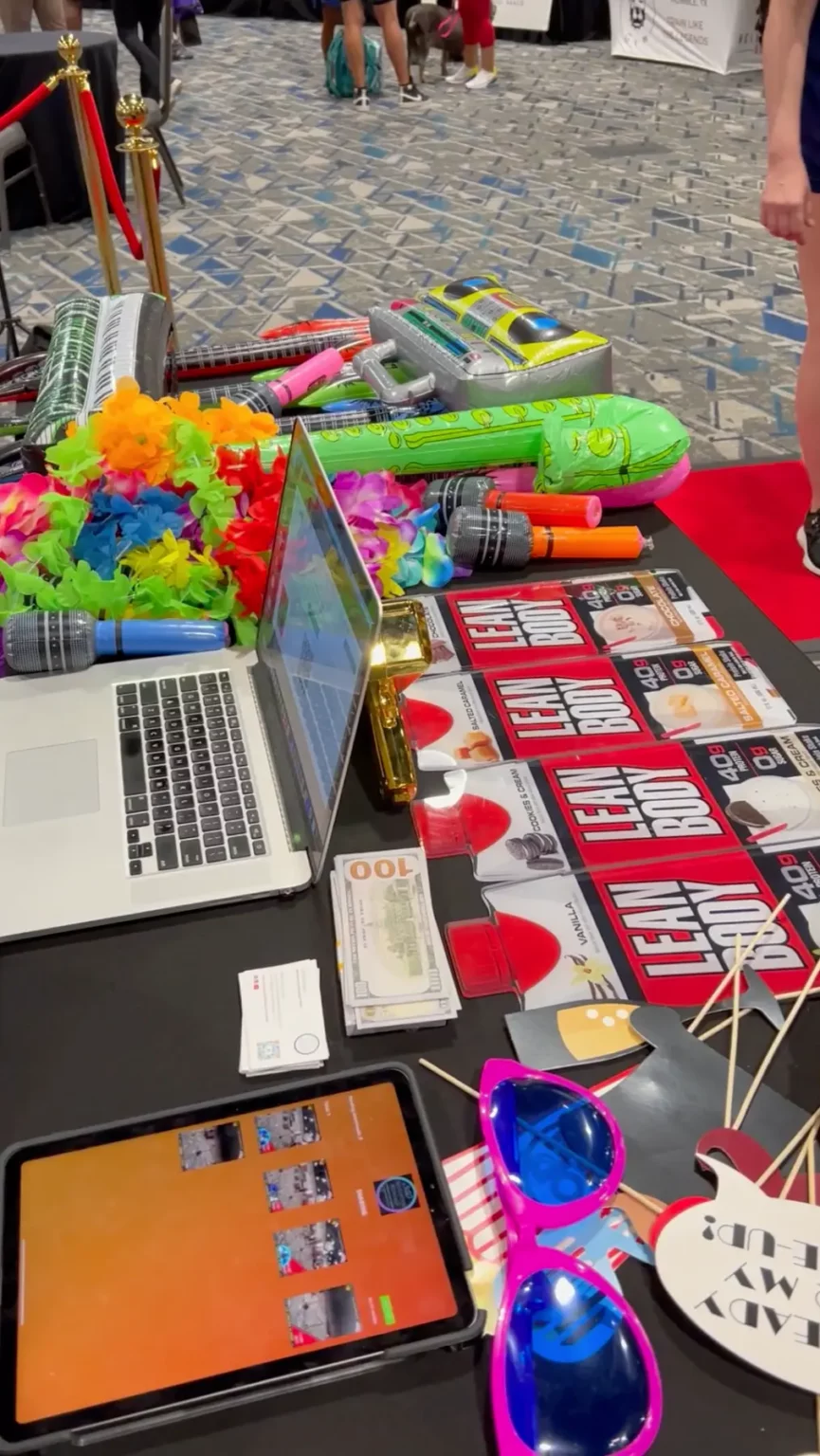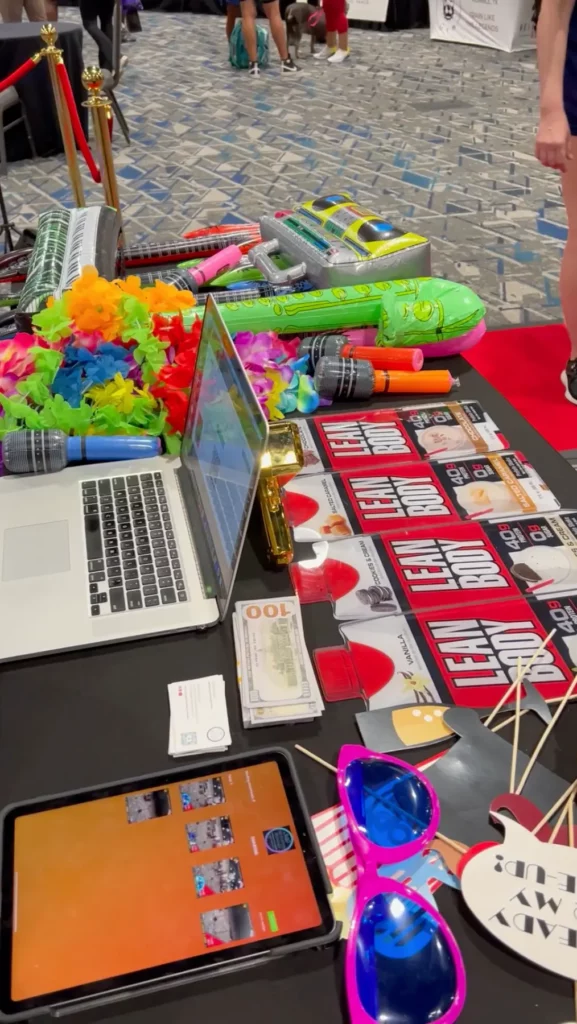 Customizable Options
For an unforgettable occasion, customizing is essential. That's why we offer an array of customizable options for our 360 photo booth rentals in Houston and The Woodlands, Texas, and the surrounding area.
We understand that every event is unique, and we want your photo booth experience to reflect that uniqueness. Whether you're planning a corporate gathering, private party, or social events like weddings or graduation parties, customization can help set your occasion apart from the rest.
Variety of Themes
For those looking to make their event unique, we offer a wide range of themes that can be tailored to any occasion. You can match the theme of your photo booth with your overall event decor or go for something completely different and exciting. From vintage glamour to modern chic, rustic elegance to playful fun – there's a theme perfect for any style of celebration.
Custom Backdrops & Props
In addition to themes, we also provide custom backdrops including backdrop setups and props tailored specifically to your chosen theme or color scheme. This means you can add personalized touches like company logos at corporate events or monograms at wedding receptions. The possibilities are endless.
Digital Features
Beyond physical customization options like themes and props, digital features allow for further personalization on another level altogether. For instance, customized video overlays on photos/videos taken in the booth – this could be anything from names/initials/dates/event titles, depending on what suits best according to individual requirements.
Social Media Integration
The power of social media cannot be ignored today when it comes to organizing successful events, whether they're private parties, weddings, or corporate gatherings. That's why our 360 Photo Booth offers seamless integration capabilities across multiple platforms, including Facebook, Twitter, and Instagram, among others. Guests can instantly share their captured moments online, thereby increasing visibility exponentially.
Email & SMS Sharing Options
If some attendees prefer not to share their images publicly over the internet but still wish to keep them digitally, don't worry. Besides offering traditional printouts, we also offer email and SMS-sharing station options. Pictures and videos get delivered directly to respective devices immediately after being clicked inside the booths, ensuring everyone can hold onto these cherished memories forever, regardless of how tech-savvy they may or may not be.
Key Takeaway: Our 360 photo booth rental price list in Houston, Texas offers a range of customizable options to make your event unique and memorable. From themed backdrops and props to digital features like customized video overlays, social media integration for social sharing, and email/SMS sharing options, we have everything you need to personalize your photo booth experience. 
High-Quality Equipment for Unforgettable Memories
At 360 Photo Booth Bookings, we know that picture-perfect moments deserve top-notch equipment. That's why we invest in state-of-the-art gear for our 360 photo booth rental services. Our cameras and LED lighting systems are so good, they'll make your memories shine brighter than a disco ball.
Top-Tier Cameras for Stunning Shots
Our 360 photo booths are armed with the creme de la creme of cameras. These bad boys capture every detail from every angle, even in tricky lighting situations. With a lightning-fast autofocus, you won't miss a single epic shot at your event.
Sophisticated Lighting Systems for Flawless Illumination
Our 360 photo booths don't just have fancy cameras, they also come with sophisticated lighting systems. These babies are designed to make you look like a superstar without any harsh shadows or overexposure. We can adjust the light strips to match the vibe of your venue, so you'll always be in the perfect light. Depending on which package you choose and the lighting at your event, your options could require basic lighting, additional lighting, and/or lighting technology.
Premium Backdrops & Props for Extra Pizzazz
For added Dair and style, our selection of premium backdrops and props will elevate your photos and videos. Whether you're throwing a corporate shindig or a wild birthday bash, we've got themes to suit every occasion. Get ready to strike a pose and let your creativity run wild.
Dedicated Software for Instant Editing & Sharing
We've got top-notch equipment, and also software that allows you to edit instantly. Want to add some special effects, filters, and video overlay? No problemo. We'll make your content look even more fabulous before sharing it instantly via email or social media. #InstaWorthy 
Maintenance & Regular Upgrades for Reliability
We take pride in meticulously maintaining our equipment because we believe in delivering an unforgettable experience. From graduation parties to bar/bat mitzvahs, we've got you covered. Staying on top of the latest technological trends, we make sure our photo booths are always outfitted with the most advanced gadgets. We're like the James Bond of photo booths, always equipped with the coolest gadgets. 
Key Takeaway: At 360 Photo Booth Bookings, we offer top-of-the-line equipment including high-quality cameras and sophisticated lighting technology systems to capture stunning shots at your event with special effects. We also provide premium backdrops and props for extra pizzazz, as well as dedicated software for instant editing and sharing of your photos and videos. Our commitment to maintenance and regular upgrades ensures a reliable experience that will leave you feeling like James Bond with the coolest gadgets in town. 
Reliable Support
We're here for you from booking to event success. Planning an event can be stressful, but we'll make it smooth sailing.
We provide a comprehensive set of services to ensure you have the best experience possible. Our team coaches guests and is ready to answer your questions and address any concerns about our 360 photo booth rental price lists. Whether it's a corporate function, wedding, graduation party, or birthday celebration in Houston, Texas, and the surrounding area – we've got you covered.
Pre-Event Consultation
To kick things off right, we provide a pre-event consultation. We'll discuss the entire video area, your needs, and expectations, so we can tailor our services to make your occasion a success.
Dedicated Event Manager
You'll have a dedicated Event Manager who will oversee all aspects of the 360 photo booth at your event. They'll handle everything from coordinating delivery and setup to ensuring smooth operation during the festivities. On-Site Photo Booth Technicians We've got your back with our 360 photo booth technicians who are on-site to support you throughout your event. If technical problems arise, our on-site photo booth technicians will be there to quickly resolve them so that your event runs without interruption. No interruptions to those memorable moments.
Aftersales Service & Follow-up
Our commitment doesn't end when your guests leave. We strive to cultivate enduring partnerships with our customers. That's why we offer after-sales service, including helping you access digital copies of photos/videos taken during your event. 
Let's start planning together and make memories last forever with our state-of-the-art 360 photo booths.
FAQs about 360 Photo Booth Rental Price List
How much does it cost to rent a 360 photo booth?
The price of renting a 360 photo booth varies depending on the duration and package you choose, but on average, it ranges from $500 to $1000 per event. For detailed pricing information, check out our pricing page. Check-in more details How Much to Rent a 360 Photo Booth: A Comprehensive Guide
Slow-Motion Photo Booth Cost Renting?
The price of renting a slow-motion generally works with a 360 photo booth cost varies depending on the duration and package you choose, but on average, it ranges from $500 to $1000 per event. For detailed pricing information, check out our pricing page.
Are 360 photo booths worth the investment?
Absolutely. Adding a 360 photo booth to your event will give your guests an interactive video booth experience they'll love and create unforgettable memories. Find out why our 360 Photo Booth is the best choice for your event.
How much does a 360 photo booth cost in the US?
In the US, the cost of renting a "360-Degree Photo Booth Rental" results typically ranges from $500 to over $1000, depending on your location and the services included. Discover more about our 360 photo booth services and pricing.
What should be your budget for a photo booth?
When planning your event budget, we recommend allocating around 5% to 10% for a photo-video booth, depending on your overall budget and the features you desire. It's a fun addition that's worth the investment.
Here are our 360 Photo Booth Rental FAQs
Conclusion
Our 360 photo booth rental price list offers affordable rates for all your event needs, from corporate events to private parties and social gatherings.
Create a unique video booth experience with our professional services and customizable options, ensuring stunning photos every time with our high-quality equipment.
And don't worry, our reliable support team is always available to assist you throughout the process.